Santee Cooper Golf & Travel
Santee, SC 29142
Phone: 803-854-2554
Toll Free: 800-344-6534

View Website Free Custom Golf Quote
The Santee area has a wide variety of golf courses, 14 in all, and hotels to fit your style and budget. Known as the "Value Destination of the East Coast", Santee offers great golf for less green. Situated along Interstate 95, Santee is also probably the easiest to find golf destination. In fact, you can even see one of the courses, Santee Cooper Country Club, from the interstate when you cross Lake Marion. If you are looking for a golf trip that is less hectic, Santee Cooper Golf is your answer. You will find our area to be less-crowded and better priced than the other well-known golf stops. Give Santee a try. You, your clubs and your wallet will all leave smiling!
No Other Place Gives You More...
- The best golf vacation value on the East Coast
- Absolutely no hidden package fees
- All-inclusive and custom packages available
- Good 'ol Southern hospitality at its best
- Convenient access off Interstate 95
- 85% of our customers return year after year
Let the knowledgeable and friendly Santee Cooper Golf & Travel staff book your next golf vacation today! Nobody knows golf in and around Santee better than the Santee Cooper Golf & Travel team of golf vacation professionals. Customers like you expect expert advice on where to play and where to stay on your golf vacation. With more than 20 years of golf travel experience, the Santee Cooper Golf & Travel staff will help you plan your trip down to the final detail, while keeping your budget a top priority. The result is a great golf vacation at a tremendous value. More than 85% of the Santee Cooper Golf & Travel business is repeat business, which speaks to the level of service and the quality of the Santee experience.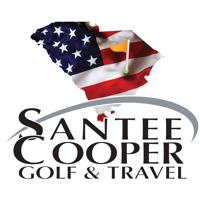 Dates: Now - 11/30/22